User selectable dual beam FishTrax™ Intelligent Sonar allows you to fine tune the FishTrax™ 1C to adapt to your fishing style. There are two operating frequencies (200 kHz and 83 kHz), each specifically designed to make finding fish effortlesss. A frequency of 200 kHz means that 200,000 sonar pulses are produced (and listened for) by the transducer every second, while 83 kHz represents 83,000 sonar pulses per second.

The FishTrax™ 1C has Three Frequency Modes:
83 kHZ
200 kHZ
Dual-View (200 kHz and 83 kHz)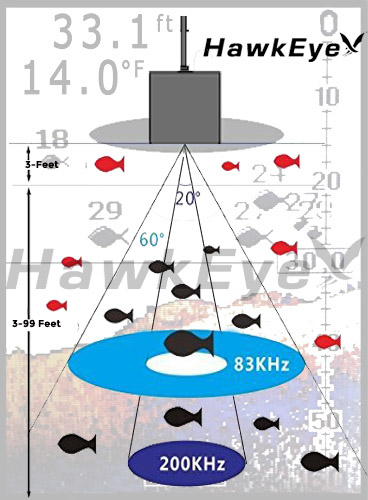 200 kHz: Excels at showing minute details. Provides the best resolution and definition of structure and targets, but will not penetrate as deep as 83 kHz. Use this frequency mode for fishing in shallow water where detail is important.
83 kHz: Has a much greater depth penetration capability, but shows less definition. Use it in deeper water or in situations where the 200 kHz lacks bottom structure detail.
Dual-View: Use this mode to utilize the best features of each sonar frequency. The 200 kHz view will show greater detail of bottom structure and fish echoes, while the 83 kHz will reach deeper to show detail beyond the reach of the 200 kHz.
To Change the Frequency:
1. Press and release the V | ESC button.
2. The current frequency mode will be displayed at the bottom of the screen.
• Dual-View will split the screen in half and show 83 kHz on the left and 200 kHz on the right