Transom Mount Transducers
A transom mount transducer is installed on the boat's transom, directly in the water and typically sticking a little below the hull.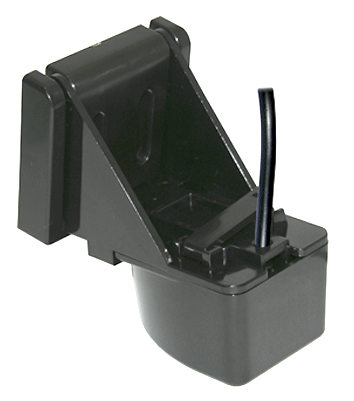 Transom mount transducers are recommended for planing hulls of less than 27 feet (8 meters), such as personal watercraft and powerboats with outboard, inboard-outboard and jet drives. They are not recommended for large or twin screw inboard boats because aerated water from the propeller reduces performance. They are also not recommended for operation at very high speeds.
Transom mounts adjust to transom angles from 3° – 16°. For angles greater than 16°, a tapered plastic, wood or metal shim will be needed. However, the transducer should be adjusted so it is angled slightly forward when the boat is in the water.
Video - Transom Mounting a Transducer on a Boat
---

In-Hull Transducers
In-hull (aka shoot-through) transducers are epoxied directly to the inside of the hull. These are only used in fiberglass or up to 1/8th inch thick aluminum hulls. In-hulls will not work with wooden, thick aluminum, steel hulls, or in foam sandwich/hulls that have air pockets. Any wood, metal, or foam reinforcement must be removed from the inside of the hull.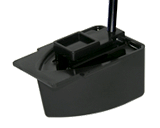 With an in-hull transducer, the signal is transmitted and received through the hull of the boat. As a result, there is considerable loss of sonar performance depending on the hull type.
Fiberglass hulls are often reinforced in places for added strength. These cored areas contain balsa wood or structural foam, which are poor sound conductors. The transducer will need to be located where the fiberglass is solid and there are no air bubbles trapped in the fiberglass resin. You'll also want to make sure that there is no coring, flotation material, or dead air space sandwiched between the inside skin and the outer skin of the hull.
Video - Gluing a Transducer Inside the Hull of a Boat
---

Thru-Hull Transducers
Thru-hull transducers are mounted through a hole drilled in the bottom of the boat and protrude directly into the water. This type of transducer generally provides the best performance.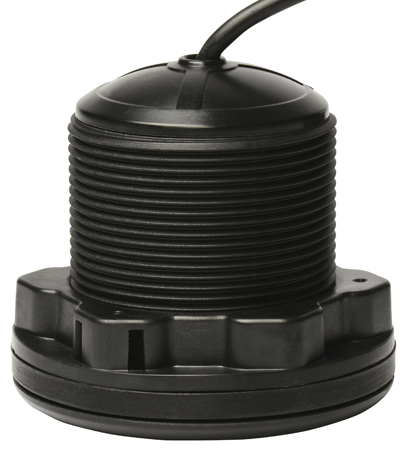 Thru-hulls are recommended for displacement hulls and boats with straight-shaft inboard engines. You'll also need a fairing block that allows the transducer to be mounted properly. Thru-hull transducers must be installed with a fairing to ensure proper alignment and a secure fit.
Thru-hull transducers must be positioned in front of the propeller, rudder, keel or anything else that may create turbulence. They must be mounted in a position that is always underwater and angled straight down.
Video - Installing a Thru-Hull Transducer